Mobility 4 Vets Wheelchair Shop Inc. was founded in 2012 as a 501(c)(3) Non-Profit Organization by a group of American veterans who had previously volunteered at the Disabled American Veterans (DAV) Wheel Chair Shop, located at the Wisconsin Veterans Home in King, Wisconsin.
The DAV Wheelchair Shop was closed at the Veterans Home in October 2011. Five of the volunteers began operations anew with a new name and new location.
With the generous donation of a new rent-free building and the assistance of a supporter who pledged maintenance work, we were back up and running providing mobility services for the community.
"Veterans Serving Veterans" is our motto. We strive to provide the necessary equipment for members and patients at our Veterans' facilities and various Veterans organizations around the state, which include:
AMVETS
Disabled American Veterans
Purple Hearts Organization
Women's Veterans Organizations
WI Vietnam Veterans
American Legion
Veterans of Foreign Wars
Marine Corp League
Vietnam Veterans of America
Other organizations
We also help non-military individuals that have mobility needs!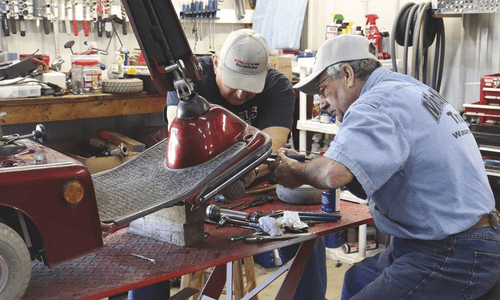 Our support includes anyone with a mobility need - Veteran or Non-Veteran.